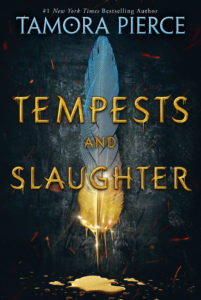 The Broadway Book World site has revealed the cover art for Tempests and Slaughter, the first in Tamora Pierce's THE NUMAIR CHRONICLES three-book series about the childhood of Arram Draper, the boy who will grow up to be the Great Mage, Numair Salmalín.
Set mainly in Carthak's Imperial University, Tempests and Slaughter tells of young Arram's struggles to focus and control his magic, his growing friendships with the young Mage Prince Ozorne and Mage Girl Varice, and the first hints at what fate the Gods and Destiny hold in store for him. From the deadly intrigues of the Imperial Palace to the depths of the Gladiator Holding Cells, Arram will have to dig deep within his powers to protect his friends – and himself.
After years of work, Tempests and Slaughter will be out in US Hardcover on February 6, 2018.